Here's what's happening at CMBC in the next 7 days.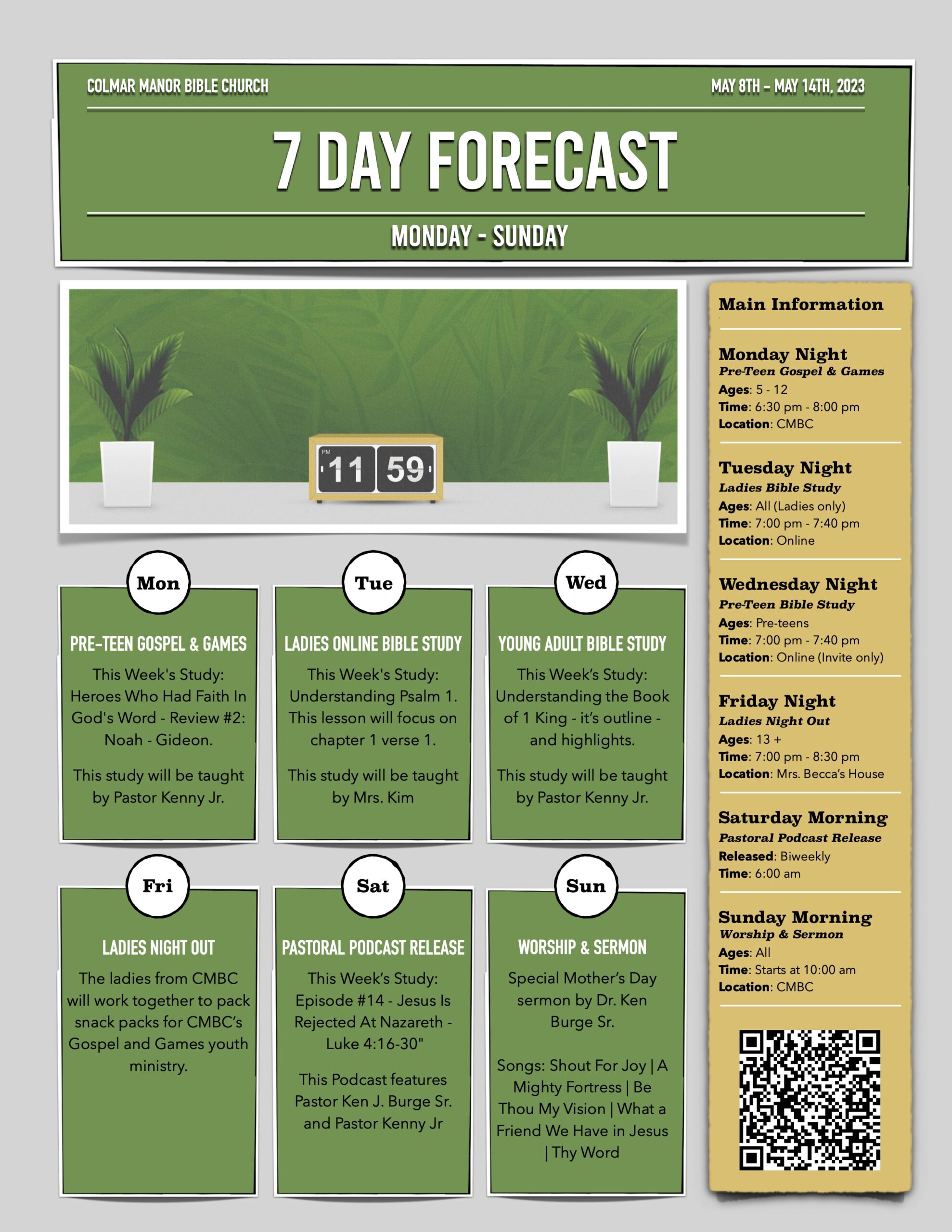 Monday:
Join us for Pre-Teen Gospel & Games from 6:30 pm – 8:00 pm. This week Pastor Kenny will be reviewing our series: Heroes Who Had Faith In God's Word – Reviewing Noah – Gideon. Ages 5-12 are welcome! Pastor Kenny Jr will be teaching the lesson.
Tuesday:
Mrs. Kim will be teaching the ladies on this bi-weekly Bible on Psalm 1. Bible study will be online and starts at 7:00 pm.
Wednesday:
Pre-Teen Online Bible Study is online (invite only for saved children who attend CMBC) from 7:00 pm – 7:40 pm. This week's study is on The Book of 1 Kings. Resources for parents and students can be found on our website.
Friday:
Ladies Night Out will be from 7:00 – 8:30. Join all the ladies from CMBC at Rebecca Burge's house for a time of snacks, fellowship, prayer and mission project. The ladies will work together to pack snack packs for CMBC's Gospel and Games youth ministry.
Saturday:
Don't miss our biweekly podcast from our pastors in "The Jesus said that series," released by Pastor Ken Burge Sr and Pastor Kenny Burge Jr. This week's episode is "Episode #14 – Jesus Is Rejected At Nazareth – Luke 4:16-30″.
Sunday Morning:
Join us for Worship at 10:00am. Pastor Ken has a special Mother's day sermon. Songs for Worship include Shout For Joy | A Mighty Fortress is Our God | Be Thou My Vision |What a Friend We Have in Jesus | Thy Word.
Sunday Night:
Young Adult Bible Study is Called off due to Mother's Day.