Missionaries
Just like every church in this world, CMBC has limitations. It is impossible for any single church to reach all of mankind. However, Jesus said that the church needs to spread the Gospel to every nation. Therefore it is important to support Biblically trained pastors and missionaries who can clearly give the gospel, build churches, and do ministry in every corner of the world. Below is a list of pastors and missionaries support by CMBC along with bios (arranged in alphabetical order according to the area they serve.)
Belarus –
Pastor Yuri Romanchik – SGA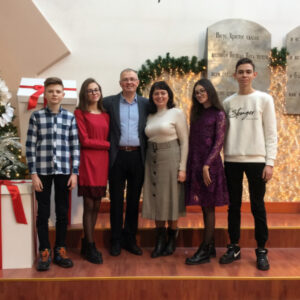 Yuri Romanchik and his family has worked hard to reach the town of Ostrino with the love of Christ. SGA-sponsored church-planting missionaries know that being summoned by the authorities can mean serious trouble. In many regions across the lands of Russia, there is substantial opposition to evangelical churches. Yet for Yuri Romanchik, his summons had a much happier outcome. He explained to the local authorities in the town of Ostrino what his church was doing in the community and why they were doing it. The city council was impressed with the church's outreach to children and youth in the city, as well as with their ministry to alcoholics and the poor. As a result, the local government allowed the church to conduct a summer school and other activities. The Lord had declared His power and opened the doors for the church to advance their ministry in Ostrino. For more information click
here
.
Yuri Romanchik & his family
Honduras –
Pastor Noel Gomez – World Reach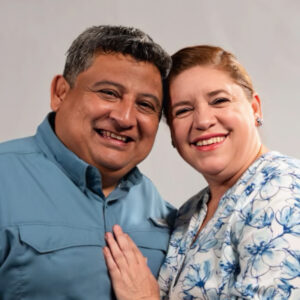 In 2008, Noel and Reina Gomez became full-time missionaries with World Reach in Honduras. Noel serves as a pastor at Christian Family Center ("CFC") Church in Paso Hondo and initiated a church in Balibrea, an impoverished Honduran community, in 2009. As a pastor, Noel provides spiritual guidance, leads pastoral staff, and teaches biblical principles in both locations. Beyond his pastoral duties, Noel's ministry extends to addressing basic community needs, including providing scholarships for underprivileged children's education and ensuring they have access to proper nutrition. Noel's commitment goes beyond the local church and community. He contributes to the World Reach Mobile Bible Institutes, actively participating in the creation of educational programs that equip pastors and Christian leaders. This initiative serves to empower churches, fostering their growth and health as they work towards advancing the Kingdom of the Lord on Earth, in anticipation of Christ's return. To find out mere click
here
.
Pastor Noel & Reina Gomez
India –
Pastor Devadas Yarraguntla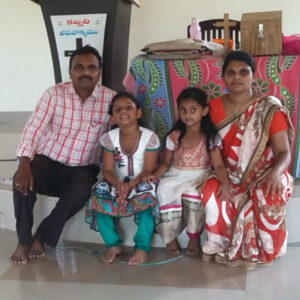 Pastor Y. Devadas was born and brought up by Christian parents. When he was seven years old his mother died. He accepted Jesus Christ as his personal savior in 1997. God called him for ministry through the scripture – Luke 5:10-11. "Do not be afraid from now on you will catch men". Pastor Devadas obeyed God's call and he committed his life to God. The Lord opened the door for him to attend Bible college in 2000 where he graduated with a B.Th. He married Prameela kumari and they were blessed with two daughters: Dorathy Priscilla and Deborah Grace. He has been Pastor at Calvary Christian Fellowship in Gollaprolu, India since 2010. Calvary Mission For Christ is a registered TRUST founded by Pastor Y.Devadas. It was started as a small charity to serve the people around them with the light of the gospel of Jesus Christ. God has richly blessed with ministry which has been registered with the government. This ministry is growing with many activities and a vision to "reach the unreached people" in rural and urban India. As their passion for the perishing souls is growing, the ministry is also soaring with different activities. Please pray for Pastor Devadas, his family and ministry.
Pastor Devadas & his family
Philippines –
Pastor Felicisimo Sagadal
Pastor Sagadal is dedicated to bringing the Gospel of the Jesus Christ to both children and adults throughout the Philippines. His mission runs a feeding program for children that not only provides physical sustenance but also imparts spiritual nourishment, guiding them in the ways of the Lord. Moreover, he conducts Bible studies and house churches, catering to both men and women who have embraced the Lord. His aim is to nurture their spiritual growth and foster a deeper relationship with God. Pastor Fel is actively engaged in Bible study sessions with law enforcers, using Pastor Ken's F.I.R.E books as valuable study supplements. This partnership extends to the Philippine National Police. He also teaches God's Word to elementary and secondary students in various schools across the town. The impact of our "Kasimbayanan" program, where the church and the community unite, extends beyond the youth to encompass the entire community, including village officials.
Pastor Felicisimo & his family
South America –
Pastor Pablo Cenepo-Torres – CMML
In the summer of 1988 Pablo made some good friends from Canada who had come to Peru to help build the chapel in Trujillo. Through their initiative and efforts, Pablo was able to attend New Brunswick Bible Institute in New Brunswick, Canada. The Lord later led him to attend Washington Bible College in Lanham, MD. Upon his graduation with a bachelors degree, he returned to Peru to help the people any way he could. He arrived in Trujillo at a crucial time for the recently founded "Elliot Christian School" and became one of its first teachers. Two years later the Lord blessed him with a scholarship to attend Capital Bible Seminary in Lanham, MD. He graduated from there in May of 2001. A few years prior to his graduation, he met a missionary minded gal from MD by the name of Sarah. They were married in the summer of 2000. After finishing his studies, he continued to sense the Lord leading him and his wife to Peru to do the work of the Lord. God has blessed Pablo and Sarah with 5 children! To find out more about this family and all they have been doing click
here
Pablo & Sarah Cenepo-Torres,
Uganda –
Pastor Kenny Lule – ECOM
Pastor Lule's journey is marked by his commitment to serving both spiritually and in the medical field. In Uganda, he holds the prestigious title of a trained and licensed Clinical Medical Officer, earning his credentials from Clark International University. Furthermore, he possesses an associate diploma in theological training, thanks to his studies at Word of Life Africa Bible Institute. Currently, he is diligently pursuing a Bachelor's degree in Biblical Studies at African Bible University in Uganda. Kenny's fervor is deeply rooted in his mission to make disciples of the Lord and equip them to spread His message. He also actively engages in training local pastors, enabling them to serve the Lord faithfully in their communities. At the heart of this calling is Pastor Lule Esuubi Ministries, a Christian nonprofit organization that operates in the rural areas of Mityana district, with a primary focus on Zigoti and Kakindu. Their core objective is to share the love of Christ and promote discipleship, all while adhering to the teachings of the Holy Scriptures. This ministry is dedicated to bringing the message of hope to the young people in the community. The Lule's have been blessed with four children. Find out more by clicking
here
Pastor Kenny & his family
USA (Baltimore) – Pastor Charlie Brown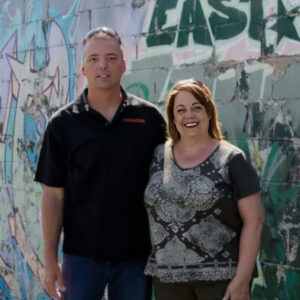 Pastor Brown spent twenty-five years in Chesapeake Beach, where he actively participated in Bayside Baptist Church. In 2000, he was ordained with a specific calling for full-time pastoral ministry to students. He received a Bachelor of Science Degree in Biblical Studies & Youth Ministry from Washington Bible College. In 2007, he assumed the role of Associate Pastor at Dunkirk Baptist Church. His journey initially led us to serve with students in various urban settings like New York City, Philadelphia, Washington DC, Baltimore, Nashville, TN, and Asheville, NC. At this time he began to sense a distinct calling to plant a church in the heart of a city. He felt the call to start a church in Baltimore, MD. He founded and currently serves as pastor at Graffiti Church in East Baltimore which focuses on preaching the Gospel and displaying the love of Christ by serving the community. The Browns have been blessed with two adult children and four grandchildren. Find out more by clicking
here
.
Pastor Charlie & Diane Brown