Pastoral Team
An integral component of CMBC is our pastoral staff and their exemplary leadership. Our dedicated pastors invest numerous hours in studying, praying, fasting, teaching, and serving the church community. Collaborating closely with our board members, they unite their efforts to guide the church in alignment with God's divine purpose of finding the lost and training the found for God's glory. Discover more about our pastors in the biographies provided below.
Senior Pastor: Dr. Ken Burge Sr.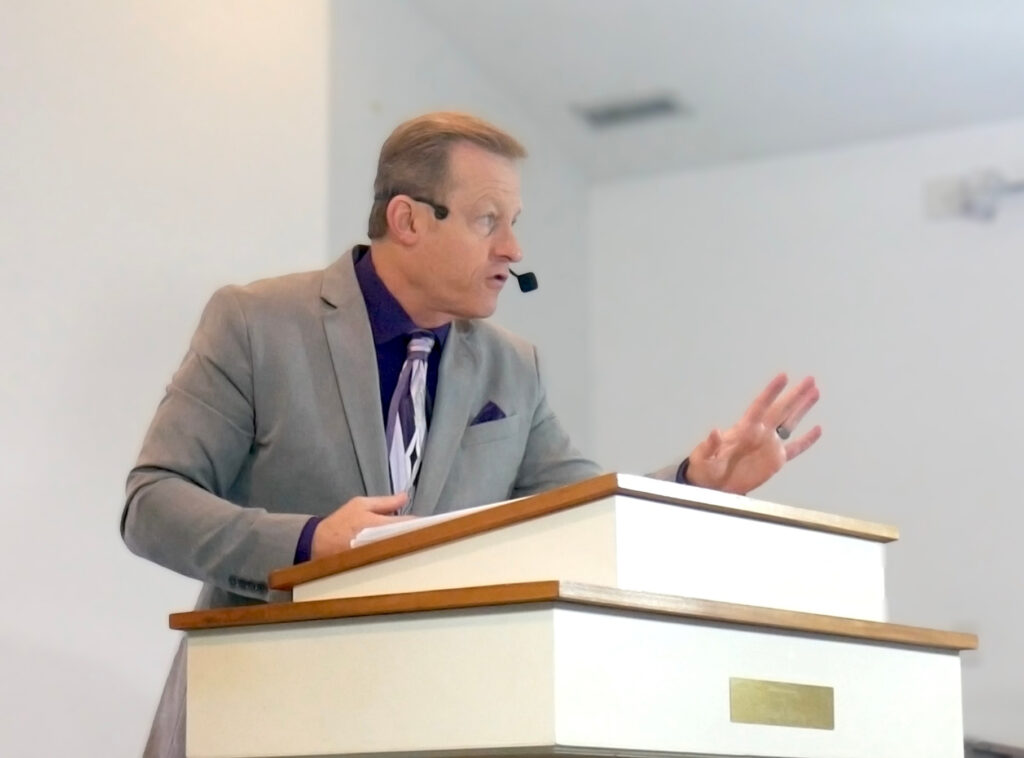 Preaching at Colmar Manor Bible Church
– – – – – – – – – – – – – – – – – – – – – – – – – – – – – – – – – – – – –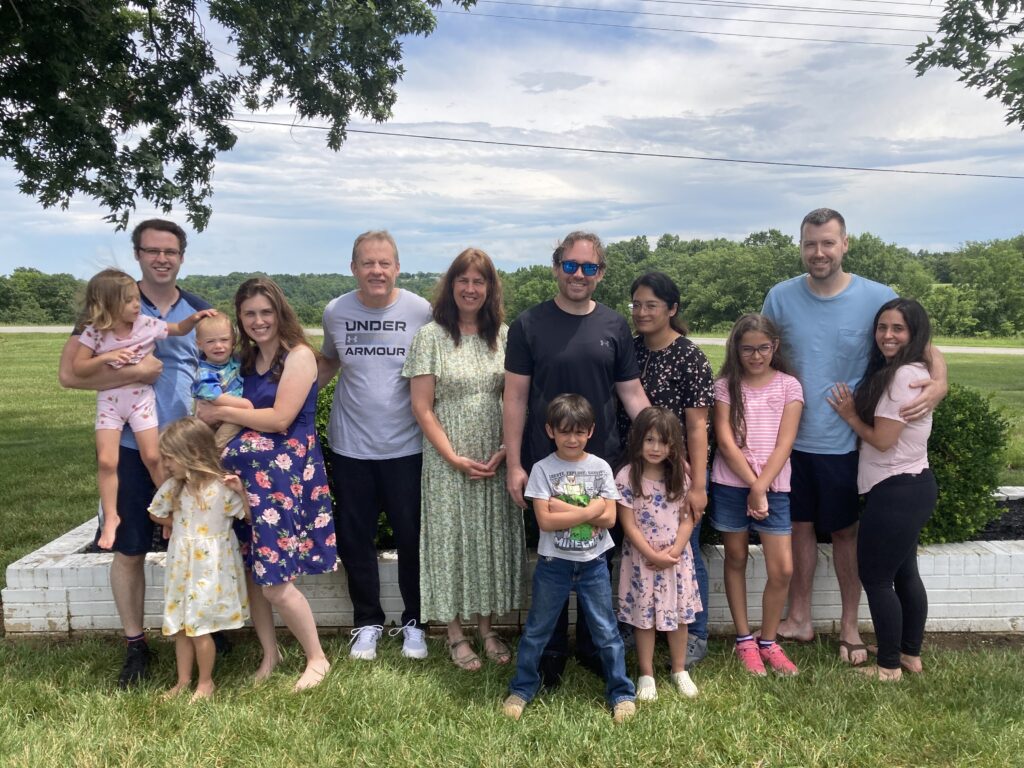 Dr. Burge with his wife Kimberly, surrounded by their children and grandchildren.
Dr. Ken Burge Sr. has faithfully served as the Senior Pastor of Colmar Manor Bible Church for an impressive tenure of over 30 years. His dedication to ministry is underscored by his extensive educational background and commitment to equipping his local congregation though Bible study and discipleship. He also uses his time and resources to train international laymen and pastors through the Ken J Burge Sr. Foundation. His theologically rich sermons and the podcast, "The Father & Son Pastoral Podcast," have led to over 9,500 subscribers on Colmar Manor Bible Church's video page.
Dr. Burge's steadfast focus aligns perfectly with CMBC's mission statement: "Finding the Lost and Training the Found for God's Glory."
In addition to his ministry and scholarly pursuits, Pastor Burge is a family man. He accepted Christ at the age of 16, married Kimberly Hall five years later, and they have been blessed with three sons and seven grandchildren. Kimberly actively contributes to the church as its secretary and leads the ladies' Bible study.
Born in Pottsville, Pennsylvania, Dr. Burge's journey led him to Prince George's County when his family moved to Maryland, and his father became a policeman in DC. At the age of 16, he was saved through the ministry of the church he now pastors. Through a series of events, he was called to the ministry and attended Washington Bible College. His educational achievements include a Bachelor of Arts degree from WBC, earned with Summa Cum Laude honors in 1995. During his time there, he demonstrated remarkable Biblical knowledge, receiving the highest score on the AABC Bible Exam and becoming a member of Delta Epsilon Chi.
Pastor Burge continued his academic pursuits, graduating with a Master of Arts degree, Magna Cum Laude, from Capital Bible Seminary in 1998. He further deepened his theological training with a Master of Divinity degree, Summa Cum Laude, from the same institution in 2002. His dedication to preaching excellence was recognized with the Hanshew Preaching Award during this time.
In 2006, Pastor Burge achieved his Doctorate of Ministry from Dallas Theological Seminary, solidifying his status as Dr. Ken Burge. His doctoral dissertation, titled "Developments and Evaluation of a Sermon Preparation and Delivery Class for Laymen," exemplified his passion for effective preaching.
Pastor Burge's love for preaching bore fruit in his writings. He authored the F.I.R.E. Bible Commentary Series, which includes titles such as "Preaching with F.I.R.E.'s E.T.A.," "Ephesians on F.I.R.E.," "1 John on F.I.R.E.," "Revelation on F.I.R.E." (a two-volume set), "Philemon, Jude, 2 John, and 3 John on F.I.R.E.," "Devotions on F.I.R.E.," "Devotions on F.I.R.E. Year Two," "1 and 2 Thessalonians on F.I.R.E.," and "Galatians on F.I.R.E." Two of his books have been translated into Spanish: "Caminemos con la Palabra: Una jornada a través de la Biblia en 365 días" and "Los maravillosos atributos de Dios."
Furthermore, Pastor Burge's impact extends beyond his congregation as he serves as the president of the Ken J Burge Sr. Foundation. This organization is committed to equipping disadvantaged pastors, missionaries, and teachers worldwide by providing essential resources to help them accurately teach the Word of God. These resources, including his own authored works, serve as a conduit for imparting biblically sound doctrine to those in need.
Pastor Burge's remarkable journey from his childhood in Queenstown, MD, to his current role as a respected theologian, author, and pastor reflects a life devoted to the study and dissemination of the Word of God. His unwavering commitment to training others with biblical wisdom is a testament to his enduring legacy.
Associate Pastor: Kenny Burge Jr.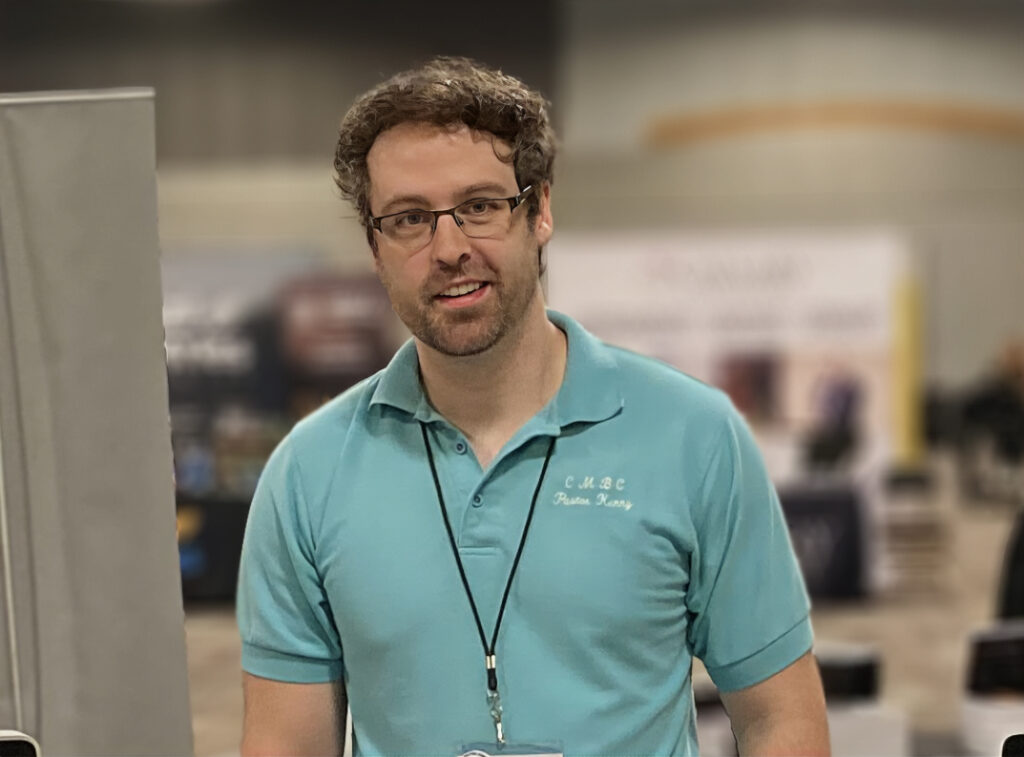 Representing CMBC at the IFCA convention
– – – – – – – – – – – – – – – – – – – – – – – – – – – – – – – – – – – – –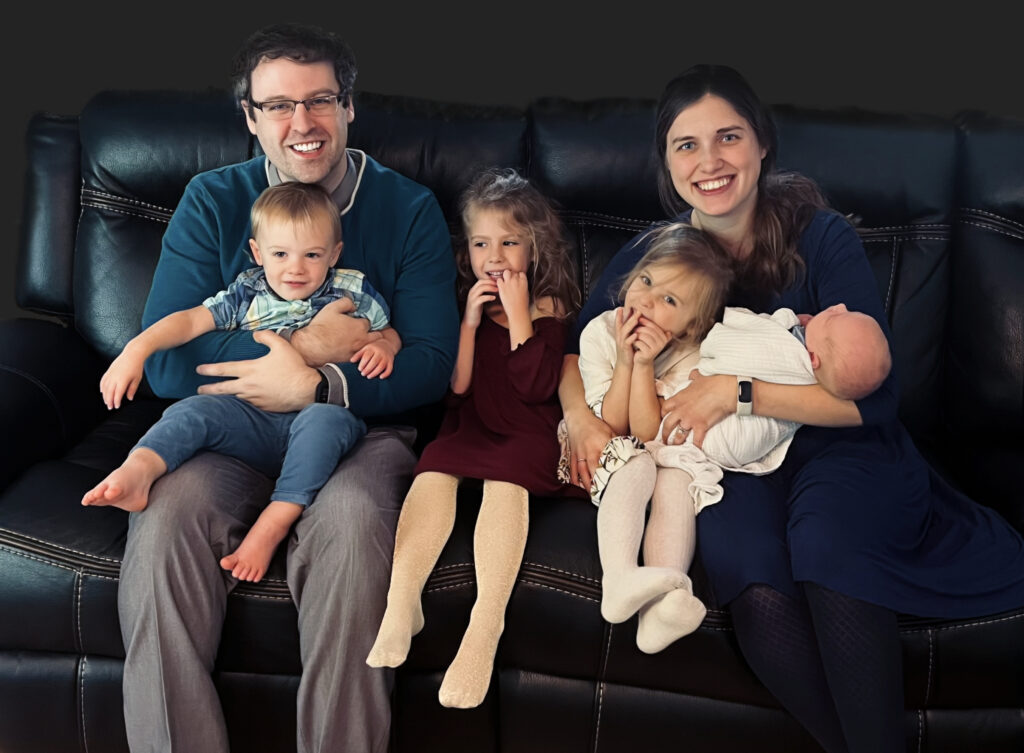 Pastor Kenny Jr. with his wife Rebecca and their four children: Kenneth, Vera, Kimberly, & Clark.
Pastor Kenny Burge Jr. serves as the Associate Pastor at Colmar Manor Bible Church, where he plays a vital role in the church's ministry. Committed to his family and the church, he is married to Rebecca and blessed with four children. Pastor Kenny Jr. is a multi-faceted leader, contributing to various aspects of the church's mission and outreach.
In his role, he provides leadership to the church's youth ministry, ensuring that young hearts are nurtured in faith and guided on their spiritual journey. He also manages the church's social media presence, using digital platforms to connect with the congregation and the wider community. On Sundays, Pastor Kenny Jr. helps lead the worship at Sunday service.
He writes and produces the biweekly podcast, "The Father & Son Pastoral Podcast," alongside his father, Dr. Ken Burge Sr. This insightful podcast delves into every word spoken by Jesus in the New Testament, providing listeners with spiritual guidance. He also films and edits Dr. Burge's sermons and Bible studies.
Pastor Kenny Jr. leads three Bible studies each week, sharing his understanding of Scripture with pre-teens and young adults alike. His dedication to teaching extends to the creation of "Theology 4 Everyday Life 4 Kids," a free curriculum designed to engage children in a comprehensive exploration of the life of Jesus.
Pastor Kenny Jr.'s podcasts and teaching materials are born from his experience in leading Bible studies. His passion for ministry ignited at the age of 13 when he started conducting weekly Bible studies for the unchurched youth in the town of Colmar Manor. He also actively participated in church outreaches, including the church's flag football league and creating a weekly 10 ten in which the teens would watch highlights from each game and have a Bible study.
As he continued to grow in his faith and calling, Pastor Kenny Jr. pursued his education. He graduated from high school at the age of 16 and embarked on his academic journey at Prince George's Community College. During this time, he initiated a "College and Career" Bible study, nurturing the spiritual growth of college students and working individuals.
Pastor Kenny Jr. further demonstrated his commitment to education by serving as a Sunday school teacher, providing tutoring to children in Colmar Manor, and offering mentorship. Leveraging his technological acumen, he enhanced the church's online presence by building a website and facilitating technical upgrades.
Driven by his dedication to ministry, Pastor Kenny Jr. extended his impact beyond the local community. He traveled to Honduras to and learned from pastors and missionaries on ways to reach the lost.
After earning an A.A.S. from PGCC, where he was recognized as the Computer Information Systems student of the year, Pastor Kenny Jr. continued his educational journey at Washington Bible College. During this period, he founded the Colmar Manor Bible Church's Monday night youth group and offered free Tuesday night guitar lessons as part of his outreach efforts.
His dedication to worship ministry led him to become the worship leader at CMBC, enhancing the spiritual experience of the congregation. Moreover, he implemented a three-camera video system, enabling the church to record sermons, share them online, and extend their reach to a global audience.
While pursuing his education, Pastor Kenny Jr. transferred to Liberty University, opting for online courses to continue his service at CMBC. He graduated with the highest honors, earning a B.A. in Religion/Theology. Following his graduation, he was ordained and currently leads the youth group, worship, and web ministries at Colmar Manor Bible Church.